Film Reviews & Essays
Celebrating Films of the 1960s & 1970s
A LOOK AT 2017 FILMS NOMINATED FOR PROMINENT OSCARS
BY LEE PFEIFFER
The most over-rated of this year's Best Picture Oscar nominees is director Paul Thomas Anderson's "Phantom Thread", a bizarre, off-putting drama that succeeds in presenting unusual characters in offbeat situations. It's a film saturated in atmosphere and intriguing plot scenarios that ultimately never delivers on presenting satisfactory conclusions to any of them. Daniel Day Lewis, in what is his self-described final screen appearance before entering retirement, is Reynolds Woodcock, a London dressmaker who has become a legend in his own time. The House of Woodcock designs top-line dresses for the international jet set as well as royals from around the globe. He prides himself on his obsession with his work and he runs the business with his humorless, equally dedicated sister Cyril (Lesley Manville). Their design house is run like a military base with discipline and dedication expected of their devoted, if not too happy, employees. The only vices Reynolds allows himself are short-term relationships with women, which he enters into with charm and intensity only to inevitably discard his lover when he tires of her. The film opens with the story's leading female character, Alma (Vicky Krieps) relating in flashbacks how she became the object of Reynolds' desires. He meets her in a small country bed and breakfast where she is working as a nondescript waitress who he finds charming. That evening, he takes her to a lavish dinner and then brings her back to his house where she understandably presumes he will attempt to bed her. Instead, the quirky Reynolds immediately orders her to stand for a fitting in order for him to make her an exquisite dress. More bizarrely, this promising first date is further detoured by the arrival of Cyril who begins to assist in the measurements of the dress, though it's clear she resents the younger, more attractive woman. Why? The implication is that she might have an unhealthy sexual interest in her own brother but, like so many of strands of this "Thread", nothing concrete is ever presented regarding the origins of Reynolds' and Cyril's strange relationship. It's one of several promising story scenarios that are presented in a confusing and sometimes incomprehensible manner, while others are hinted at but dropped altogether. At times it feels as though Anderson simply tore up the last twenty pages of his script during production.
Over their courtship, Reynolds proves to be a charming, highly intelligent beau. Alma is obviously from humble origins but the script fails to tell us anything about her life, background, or even nationality (she speaks with a rather exotic accent that is difficult to pin down). Soon, she moves into Reynolds' apartment building, which doubles as his design studio. She begins to learn the clothing trade from the bottom up, resenting after a while that her status as the boss's lover doesn't get her any perks. She's treated the same as the rest of the obedient staff. Soon, Alma begins to see disturbing personal traits in her lover. He has many eccentricities. He requires complete silence at breakfast while he contemplates his design work The slightest deviation from his standards can result in him erupting in anger. The film traces these outbursts and how Reynolds and Alma alternate between having a fractious and loving relationship. Ultimately, they marry- but that is only the beginning of the psychological agony they will both endure before finding a bizarre scenario that pleases them both, based on the "Munchausen syndrome by proxy" (Google it) that involves a peaceful coexistence established through poisoning by mushrooms. If it sounds weird, the premise seems even weirder when played out on screen.
Throughout most of "Phantom Thread" I was duly impressed by the superb production design (the film is set sometime in the 1950s but doesn't specify exactly when) along with the wonderful classical/original score provided by Johnny Greenwood. Then there are the mesmerizing performances. Lewis is predictably superb but the real find is Vicky Krieps, of whom much more should be heard in the near future. Like Woodcock's design creations, every aspect of the film looks perfect so it's disappointing that director/screenwriter Thomas never allows the plot to come together in a satisfying manner. The key plot point involving mushrooms is a bit wacky and doesn't fit in with the general tone of the movie. It's like having Godzilla appear at the finale of "Who's Afraid of Virginia Woolf?" and there's no getting around the fact that poisoned mushrooms makes this feel like a watered down premise of that seen in "The Beguiled".
There's much to admire in "Phantom Thread" including the lush cinematography (also provided by an uncredited Paul Thomas Anderson). Anderson enjoys a loyal following among critics and film fans who enjoy the quirkiness of his scripts and direction. Consequently, I wonder if that devotion extends to overlooking the obvious flaws and tangled, unsatisfying aspects of his work, of which there are plenty in "Phantom Thread". This may not be the case of the emperor having no clothes, but at a minimum, he is scantily clad.
A LOOK AT 2017 FILMS NOMINATED FOR PROMINENT OSCARS

BY LEE PFEIFFER
They was great trepidation in the film industry about whether director Christopher Nolan's "Dunkirk" would be able to attract large enough audiences to recoup its considerable production costs. After all, most movie-goers are young people and the most popular kinds of features are superhero epics and gross-out comedies, not historical epics. To the surprise of many, "Dunkirk" did indeed prove to be a major hit, grossing over $500 million worldwide.This proves that the intelligence and taste of younger movie-goers should not be underestimated and also that Nolan himself enjoys the kind of loyal following that few directors can brag about. His name on a film will draw audiences that might be immune from a certain movies if not for his involvement. "Dunkirk" has also won critical acclaim and is nominated for numerous Oscars including Best Picture and Best Director. It's to Nolan's credit that he sought to bring this story to the screen during an era in which the average person is probably unacquainted with its historical significance, at least outside of Europe. That may be a sad reflection on society but it's all the more reason why Nolan should be commended for bringing the heroic saga to the spotlight.
"Dunkirk" relates the ominous period of time early in WWII when the British sent the bulk of its army as an expeditionary force into France to help stem the German invasion. At the time it was assumed that France had the strongest army in Europe. The recently -constructed heavily fortified Maginot Line was designed to be an impenetrable barrier to the German forces. Hitler decided to outflank the Allies by invading France through the back door in Belgium, plowing his tanks through the seemingly impassable Ardennes Forest, thus completely bypassing the Maginot Line and rendering its heavy artillery useless. The result was a rout for the Alllies and the bulk of the British army, along with French units, found itself trapped on the beaches of Dunkirk. German forces could have moved in for the kill but made a major mistake by giving their exhausted units some down time, feeling that the Allies had no way to escape. Churchill issued an edict that called up any available vessel to make a desperate journey across the Channel under heavy fire and air attacks to rescue as many soldiers as possible. These gallant civilians pulled off the impossible by doing just that and rescuing the bulk of the 300,000 British troops on the beaches. French troops also made it out and joined the Free French units stationed in England under the command of DeGaulle. All of this makes for a highly compelling story but only fragments of it end up in Nolan's often admirable film. He provides virtually no historic context to the action seen on screen, which covers the battle from the viewpoint of individual soldiers as well as a small boat captained by an every day middle-aged Brit (Mark Rylance, in excellent form), his teenage son and his good friend. Aside from an opening series of captions informing the audience of the bare bones facts, no other overview of the dramatic occurrences is provided.
The film presents the battle scenes in spectacular and intense detail. You can feel the fear and confusion among the stranded troops and individual soldiers who attempt to use any means necessary to hitch a ride on the few overcrowded British Navy vessels that were available prior to the arrival of the civilian "fleet". The scenes inside the cockpit of the British Spitfire, one of only a few available in the battle to combat the constant German air attacks, are especially riveting. When a pilot has to ditch his plane in the ocean, he finds his cockpit is jammed and he may well drown. It's this type of harrowing scene that allows Nolan to ratchet up the suspense. However, it's Nolan the scriptwriter who undercuts the production on numerous occasions by failing to provide any emotional core to the film, with the exception of the scenes involving Rylance, which are genuinely moving. The rest of the characters are just relatively anonymous combatants of which we know nothing about personally. We can relate to their dilemma but unlike the similarly-themed "The Longest Day", we have little emotional resonance in them beyond the fact that we simply want them to survive. Nolan also fails to capitalize on the arrival of the civilian fleet, one of the most inspiring moments in military history, as it not only spared 300,000 lives, but also saved England- and thus the world- by allowing its fighting men to be able to resist Hitler's aggression. Nolan provides only a few fleeting shots of numerous boats approaching the Dunkirk beaches but the type of soaring emotional moment you might expect is rather watered-down.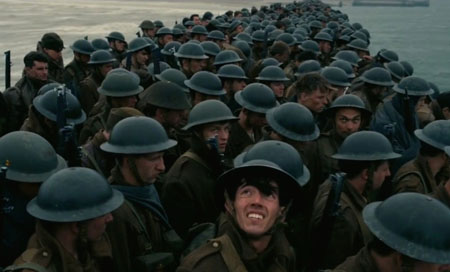 There's much to admire in "Dunkirk". It's a big, ambitious war movie the likes of which we rarely see today. The aerial combat scenes are extraordinarily exciting and frightening. The cinematography by Hoyte Van Hoytema is outstanding and Hans Zimmer provides a thundering, impressive score. More importantly, it attempts to commemorate a battle in which the British people turned a massive defeat into a tremendous victory. It's good filmmaking, but it never soars as high as you might expect and want it to.
CLICK HERE TO ORDER FROM AMAZON

A LOOK AT 2017 FILMS NOMINATED FOR PROMINENT OSCARS
BY LEE PFEIFFER
Director Luca Guadagnino's "Call Me by Your Name" has been winning plaudits from critics and has earned four Oscar nominations, including Best Picture. The lyrical love story between two closeted gay men is set in Italy in 1983.Timothée Chalamet plays Elio, a 17 year-old Jewish-American high school student who is also of Italian heritage. He lives a seemingly idyllic life in a villa located in rural Italy. He's a brilliant student, able to converse in multiple languages and also displays stunning musical talents.His father (Michael Stuhlbarg) is a professor of archaeology who annually invites a graduate student to spend six weeks at the villa to assist in cataloging materials pertaining to excavations of historical finds. This year's student is Oliver (wonderfully played by Armie Hammer), a hunky, charismatic American who arrives at the villa and takes over Elio's bedroom, thus evicting Elio to an adjoining room. Whatever resentments Elio is feeling about being summarily moved from his own bedroom vanish when he lays eyes on Oliver. Elios, we learn, is hiding a secret: he's gay. Despite the fact that he is a popular figure in the small, intimate circle of his high school friends, he is actually a lonely, frustrated person with seemingly no outlet for romantic desires. He plays the game of acting straight and even has an attractive French girlfriend, Marzia (Esther Garrel) but he only has eyes for Oliver. Elios suspects Oliver may also be gay but ponders whether certain subtle gestures are actually acts of flirtation or just figments of his imagination. His doubts grow when Oliver predictably becomes the object of desire among local young women- and Oliver seems to be enthused about capitalizing on their intentions. Much of the early stages of the film concentrate on Elios trying to decipher Oliver's sexuality and whether he should make an overt pass at him. Ultimately, his question is answered when the two spend an afternoon together in the countryside. What follows is a carefully choreographed scenario in which the two try to maximize their time together without raising suspicions of those around them. Within a short time both realize that their relationship is one of genuine love, not just lust. They also realize that it is inevitably doomed as the clock ticks down to the day Oliver must return to America.
"Call Me by Your Name" (which boasts a grand total of twenty producers/executive producers) is a highly emotional love story that unspools over a leisurely running time of 132 minutes. That would ordinarily seem overlong but the laid back pace keeps in-synch with the lazy atmosphere of the Italian setting, where no one seems to be in a hurry and everyone is enjoying la dolce vita. The running time also allows director Guadagnino to fully develop not only the two main characters, but the supporting figures as well. It's a marvelous collection of diverse people, thanks to screenwriter James Ivory and source novelist Andre Aciman. The film succeeds on all levels. The acting is superb throughout with even minor roles expertly portrayed. The real triumph is that of Chalamet, who delivers a finely-tuned portrayal of a teenager who not only has to cope with the usual psychological challenges of being on the verge of adulthood, but who also must suppress his sexuality. Both his father and mother (Amira Casar) defy stereotypes in scenarios such as this by being progressive and sympathetic to their son. Both can instantly see the mutual attraction between Elios and Oliver and conspicuously try to afford them the maximum amount of time together. The film has numerous scenes that are highly moving and emotional, one of which is a long talk between father and son in which Elios's dad delivers a life-affirming talk to Elios that makes it clear he is accepted and loved for who he is. It's superbly enacted by Michael Stuhlbarg, who probably should have received a Supporting Actor Oscar nomination. There is also a wonderful score that incorporates classically-styled works with contemporary rock. The cinematography by Sayombhu Mukdeeprom is tantalizing enough to make you book the next flight to Italy. What is refreshing about the film is the lack of contrived crisis points one would expect to see pretentiously introduced into the story. Instead, everyone in the film is a good person. No artificial crisis is introduced aside from the inevitable parting of the lovers, which does pack a tremendous punch in a "Bridges of Madison County" kind of way. The film's haunting final image of Elios is extraordinary. You must stay through it and not leave the theater, even as the credits role over the image.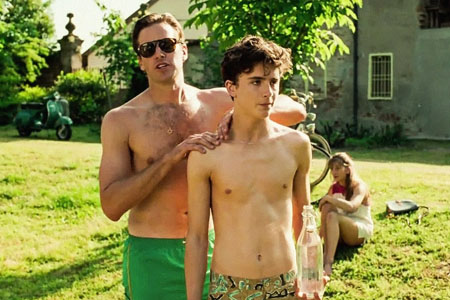 After decades of gay characters being either ignored completely in films or used as objects of ridicule or derision, it's satisfying to see we've finally reached a point where a same-sex love story can be presented in a mature, intelligent manner that will appeal to mainstream audiences. "Call Me by Your Name" is the epitome of an art house movie but with the strong reviews and word-of-mouth it is generating, the film is exhibiting significant cross-over appeal. Highly recommended.
CLICK HERE TO PRE-ORDER FROM AMAZON

| | |
| --- | --- |
| All original site content copyright Cinema Retro 2007 | |